We are all feeling the activities that are taking place at Seaway in preparation for our National 1500. What is so special about this machine? It is just another piece of forming equipment, right? Well, yes and no. First a little history. National Machinery was started in Cleveland in 1874 with a workforce of 10 people under the leadership of Mr. William R. Anderson. In 1882 a group of investors and a future owner, Meshech Frost, convinced Mr. Anderson to move to Tiffin, Ohio. By 1889 National was the only machine builder in the world dedicated to forming equipment for both bolts and nuts which led to international sales. Keep in mind all this was achieved before the use of electricity which was first used by National in 1908. Fast forward through 2 World Wars and a Great Depression where National continues its global presence 145 years later.
The 1500 is a designation that National Machinery uses to reference the maximum size wire that the machine can cut-off. In this case it is 1.500" diameter. The machine can cut-off a maximum length of 11.000" long. So, at machine maximums, it affords the ability to make a part that weighs 5.5 pounds. While this is pretty impressive, we would probably never come close to this, however, we are currently evaluating new business with parts that are close to 2 pounds.
One thing that National is known for is producing equipment that has a large tonnage rating in a relatively efficient foot print. The tonnage rating for the 1500 is 1,100 tons over 5 stations. The size of the concrete foundation is 18 feet x 32 feet. Compare this to the foundation of the BPF-550 which is 14 feet x 27 feet and is rated at 300 tons over 5 stations. The 1500 can handle all the tonnage of the BPF- 550 plus another 100 tons in just 1 station. To handle this tonnage the die tooling is 8.000" in diameter and 12.500" long. The die tooling in one station will weigh approximately 160 pounds. Good thing we will have an overhead crane to help.
There has been much talk about the challenges of moving a piece of equipment that weighs 360,000 pounds. In order to get it street legal for shipping, Jim Swortchek, Gary Cottingham, Dennis Brandenburg, and Steve Long recently had to shed some pounds. They removed, Motor and Motor Support (5,000 lbs), Flywheel (7,000 lbs), Bull Gear (8,000 lbs), Bull Gear Hub (12,000 lbs), K.O. Levers, (7,500 lbs), K.O. Lever Shaft (2,000 lbs), K.O. Cam Shaft (8,000 lbs), Main Connecting Rod (3,000 lbs), Counter Balance (3,500 lbs), Transfer (1,800 lbs), Feed Box (17,000 lbs), and Ram Slide (24,000 lbs). The guys worked very hard to accomplish this in one week and manage the trucking service and rentals of a box truck and a heavy capacity lift truck. They also had to remove the existing sound enclosure before anything could be taken off the machine. Did I mention in southern Indiana it averaged 86 degrees that week?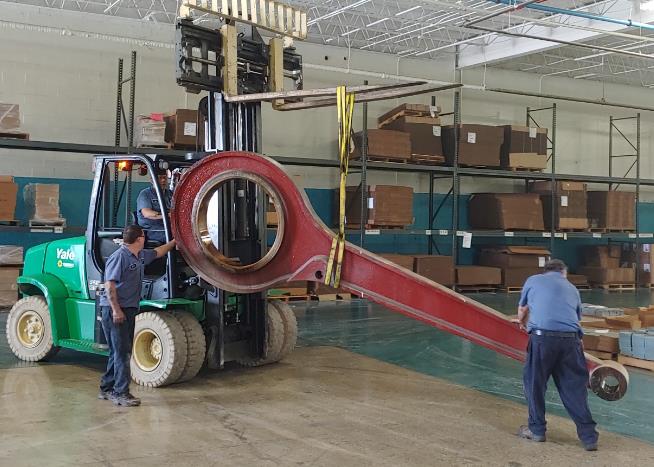 Main Connecting Rod (Banjo) being removed (3,000 lbs)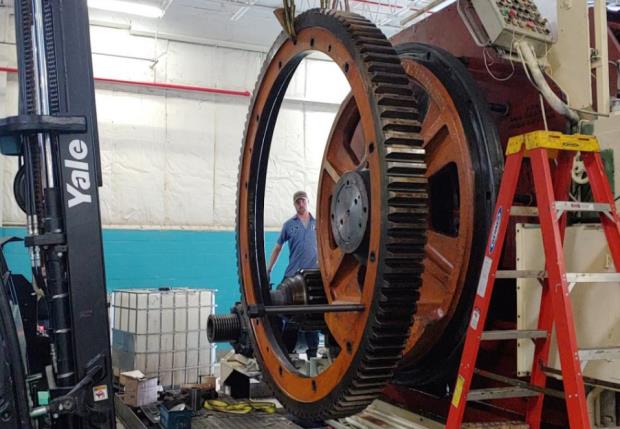 Bull Gear removal (8,000 lbs)
The machine is scheduled to be at Seaway by the middle of July which gives the 36" thick foundation time to cure. The machine has set idle for at least 10 years and while it is in good condition, it will require a thorough going over. It will need all plumbing and electrical addressed along with the replacement of some wear items discovered during the tear down. In addition, Engineering is working on many projects with maintenance that include an operator platform, tooling pallet, modified transfer design, auto adjust for die side K.O., conveyor systems, in-line parts washing, die assembly press installation, Die Block modifications, and tooling design for the 10 parts that have already been secured for the machine. All this will be going on concurrent with the building construction.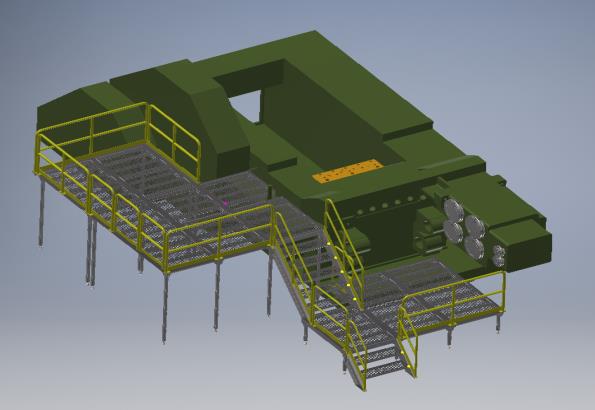 Operator Platform, Designed by Austin Washburn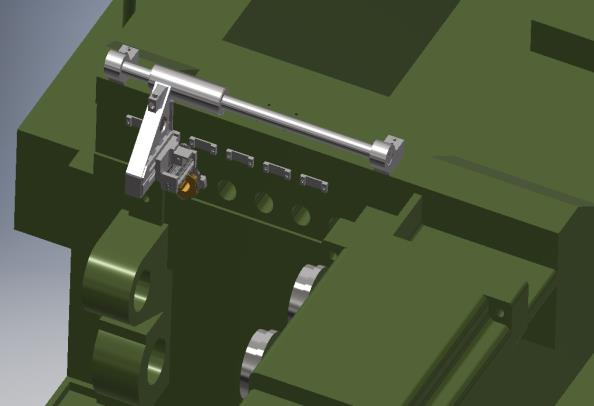 Auto Kickout Adjust, Designed by Austin Washburn
So, we have shed the light on some of the capabilities of the National 1500, and some of the activities that have been done and the many activities that still remain, but let's have a look at where the machine came from. It was originally delivered to an Italian Company named IBS Industrial located in a metropolitan area of Turin, Italy on July 29th, 1974. IBS is still in operation today under a large Italian Fastener company called Fontana Group. Our machine was built in National's Nuremburg, Germany facility where they have been building equipment since 1958. National has built a total of 18 size 1500 machines between 1969 and 1981 of which 3 have been made in Germany. We are not sure of an exact date but approximately 2004, the machine was purchased by another Italian company named Raccorderie. In approximately 2010, the machine was purchased by Whitesell Precision Components, and made its journey to Southern Indiana. So, we are the 4th owner in 45 years.
To continue the conversation about the 1500 being just another piece of forming equipment, consider that National no longer builds any forming equipment over 650 Tons. In fact, if they wanted to build a 1500 size machine today, it would probably cost around 10 million dollars. Since this would not be economically feasible, it has created an interesting market for used equipment of this size. We are not sure from the 18 originally built, how many are still operational, but one thing for sure is that it is a unique piece of forming equipment that few companies have in their possession. We also know that Jim Swortcheck and his maintenance team can get anything running.